We thought RISE OF THE FOOTSOLDIER: ORIGINS was the end of the hugely successful British gangster film series, but now we can look forward to TATE: TWO DAYS OF BLOOD.
Here's the trailers, clips and some behind the scenes of the British gangster film franchise that the fans love and the critics love to hate. With with what we thought was the latest instalment, RISE OF THE FOOTSOLDIER: ORIGINS being a firm hit, TATE: TWO DAYS OF BLOOD will we next up in this highly successful UK crime franchise.
RISE OF THE FOOTSOLDIER started back in 2007 when violence was taken to a new level and it all got very messy over a pizza, in Now in 2021 RISE OF THE FOOTSOLDIER: ORIGINS mixed brutality with style...What will TATE: TWO DAYS OF BLOOD have in store!
On Friday 7th September 2007, RISE OF THE FOOTSOLDIER opened in UK Cinemas...
On Friday 7th September 2007, the brutally violent British gangster film RISE OF THE FOOTSOLDIER opened in UK Cinemas, followed by a DVD release on the following Boxing Day. There's been very few British gangster films that have made such an impact. The pizza scene with Craig Fairbass "We're talking about cheese, you cunt." has become iconic and the movie a Rritish crime classic. And so here we are 14 years on and the 5th installment RISE OF THE FOOTSOLDIER: ORIGINS is now in Cinemas, in what is the final installment...or is it?
It all started with RISE OF THE FOOTSOLDIER starring Ricci Harnett as Carlton Leach.
RISE OF THE FOOTSOLDIER charts the inexorable rise of Carlton Leach from one of the most feared generals of the football terraces to becoming a member of a notorious gang of criminals who rampaged their ways through London and Essex in the late eighties, and early nineties.
Watch the original RISE OF THE FOOTSOLDIER film on Prime
@SignatureUK will be releasing an remastered RISE OF THE FOOTSOLDIER: Extreme Edition on Digital Platforms 3rd February 2023, including more sex, more guns, more violence and 20 minutes more footage. Watch the new HD trailer below!
RISE OF THE FOOTSOLDIER PART II, directed by Ricci Harnett, was released in n UK cinemas 11 December and on DVD Boxing Day 2015.
Outline: It's 1997, two years after the infamous Essex Boys murders and Carlton Leach is convinced the men responsible for gunning down Tony Tucker, Pat Tate and Craig Rolfe are still out there and he could be next.
Suffering nightmarish flashbacks, Leach hides weapons in every nook and cranny of the family home as his drink and drug enhanced paranoia takes hold and his expectation of an attempt on his life reaches boiling point. This is brought to a crescendo when he kills the family pet dog with a Crossbow, thinking it's assassins in the dark unlit night garden (don't worry he buys a new Puppy). This is the last straw for his wife Denny (Coralie Rose) who leaves the family home taking their two girls with her.
Losing his family, street respect, and his job of managing the door of a nightclub because of his uncontrollable violence, Leach is fast approaching the bottom of a self-destructing spiral. But then he's thrown a lifeline and starts making the steps that get him back on the front line.
However with Leach being the sort of guy who would use a sledge hammer to crack a nut, confrontations are never far away and with all the violence it's only a matters of time before he upsets bigger fish. Leach is now well and truly back on the merry-go-round, only this time he's not getting off.
It's a great cast with some nice performances, Ricci Harnett who also wrote and directed the film is once again brilliant as Carlton Leach, Luke Mabley terrifically plays his best mate Shawn, while Johnny Palmiero plays a nasty little Mad Jack, and there's also a great little cameo from the legendary Steven Berkoff.
RISE OF THE FOOTSOLDIER II was one of the most eagerly awaited British Gangster film sequels in years, it's more grown up and certainly much darker than the first film, visually it looks stunning and lovers of the British Gangster film genre will love it.
Watch the RISE OF THE FOOTSOLDIER II Q&A with Riccic Harnett and Shawn Birch.
RISE OF THE FOOTSOLDIER: THE PAT TATE STORY was released on Download 22nd Dec, and on Blu-Ray / DVD 26th Dec 2017.
Synopsis: The rise of ruthless Essex gangster Pat Tate, who blazes a path from Marbella to the Medway in the late 80s, peddling pills and snorting coke and crushing anyone who gets in his way, in his quest for cash and power. Double- crossed by an ex-pat drug baron, Tate ends up in prison. Undeterred, he establishes himself as top dog inside, and gets himself in shape in preparation for his release - when he plans to reclaim his turf the only way he knows how - with violence, and no mercy.
Watch RISE OF THE FOOTSOLDIER: THE PAT TATE STORY on Prime
Watch our exclusive RISE OF THE FOOTSOLDIER: THE PAT TATE STORY behind the scenes below!
RISE OF THE FOOTSOLDIER 4: MARBELLA Was released on Digital Download 23 December 2019 & DVD, Blu-Ray 6th January 2020.
Synopsis: Fresh out of prison, Pat Tate (Craig Fairbrass) steps right back into his Essex nightclub business. But although the money is good, he can't stop brooding about the man who had him put away. It's not long before he's off to Marbellato find Frank Harris and seek his revenge. But Harris is long dead and the middle-man Terry Fisher (Andrew Loveday) offers Pat the biggest drug deal of his life.
All Pat needs is for his pals Tony and Craig to deliver the cash from Essex to close the deal. But Craig being Craig, turns a simple plane trip to a mental road trip. All Tony wants is to make it back in time to support his friend Nigel Benn at the boxing match of his life.
But when their cash gets stolen and Pat is threatened by a local firm, he comes up with an audacious plan to get them back to England in time for one of history's greatest fights...
Watch RISE OF THE FOOTSOLDIER 4: MARBELLA on Prime
Watch the RISE OF THE FOOTSOLDIER 4: MARBELLA official trailer below!
Pat Tate ain't happy - Watch the RISE OF THE FOOTSOLDIER 4: MARBELLA film clip below!
Watch our exclusive RISE OF THE FOOTSOLDIER 4: MARBELLA behind the scenes below!
Watch part 2 of our exclusive RISE OF THE FOOTSOLDIER 4 MARBELLA behind the scenes featuring boxer Conor Benn below!
Check out a brutal clip featuring Pat Tate in RISE OF THE FOOTSOLDIER 4 MARBELLA below!
RISE OF THE FOOTSOLDIER: ORIGINS released in Cinemas 3rd September 2021. Home entertainment release TBC.
Film Review - Tony Tucker Gets A Revamp And Guns For The Main-Stream.
Who'd have bet, fifteen years after the release of Rise of the Footsolider, there would be a cinema release for a fifth film in the franchise...
Who'd have bet, fifteen years after the release of Rise of the Footsolider, there would be a cinema release for a fifth film in the franchise; a franchise whose continued presence epitomises success in low-budget British filmmaking of the last twenty years. Given the mainstream critical reception deriding the film as 'Green Street but without that guy from Lord of the Rings' and a film 'that robs you of two hours of your life', not many would have backed this particular horse. Savaged by film critics as violent, vicious, and misogynistic, the films have had no pretensions of artistry and cinematic flair, yet the franchise has continued to scratch out a market both home and abroad, often reliant on the straight-to-DVD, Friday night supermarket shopping buying audience. But now home viewing is more about streaming services, and the #MeToo movement calling time on abuse against women onscreen and in the film industry, where now for the low-budget British gangster film? It appears writer, Andrew Loveday and director, Nick Nevern have the answer with RISE OF THE FOOTSOLDIER: ORIGINS. While it won't be knocking on the doors of Bafta, it is clear the film aims to do more than merely squeeze out every last drop of the Tony Tucker story. Swapping the more extreme toxicity of the franchise for a more cinematically aware experience, the film balances violence with style, benefitting from some polished performances and a budget wisely spent. Have Loveday and Nevern been taking notes at film school? Oh yes they have.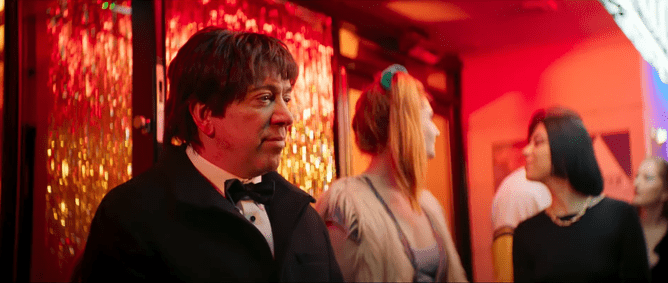 Terry Stone as Tony Tucker in Rise of The Footsoldier: Origins
The plot depicts the back story of Tony Tucker, leading up to events, that lead up to the event of the Rettendon murders of 1995, where Tucker along with Patrick Tate and Craig Rolfe were killed. The story itself has been presented and re-presented so many times on film, it rivals only the Kray twins in inspiring and shaping the identity of the British gangster film. Initially told as a flashback, the film reimagines Tucker as a goodun-gone-bad type guy, ex-army affected by serving in the Falklands War undone by drugs, money, and power. The film opens with Tucker confronting an apparent rival, Bernard O'Mahoney (Vinnie Jones) over patch-rights to a local nightclub. As O'Mahoney floors Tucker, the flashback begins. Here Tucker is an opportunist, but with a keen sense of justice and morals, and in need of an outlet for his war-time unspent aggression. As Tucker proves himself to be useful as doorman to owners of a local nightclub (turns by P.H. Moriarty and Keith Allen), so he etches out his own low-key empire. But when he befriends a small-time drug dealer, Craig Rolfe, Tucker gets a taste for drugs, sex, and small-time drug-steals. As his drug habit grows, so do the deals, violence, and stakes, threatening to spill over into an unprecedented gang war and the unravelling of everything Tucker has worked for. The complications Tucker's decisions bring leads to him forming a partnership with both Rolfe and Pat Tate. How far and how low is Tucker prepared to go?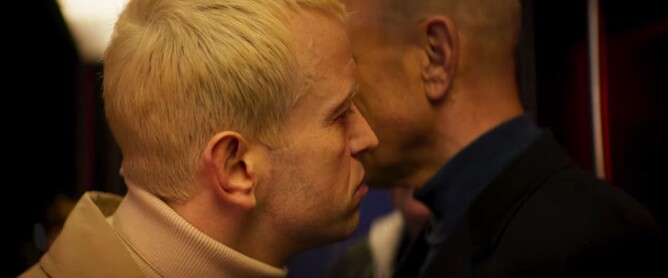 George Russo as Joey Waller in Rise of The Footsoldier: Origins
Well, we all know where the story heads. But the film ends where the first instalment begins and without the dramatic denouement of the murders, the franchise can look ahead to a further re-imagined 'beginning'. But it means the film lacks that final explosive spectacle. However, it's replaced with some 'in-the-know' and provocative events that will please fans of the film and (hopefully) stir up some online speculation. An ending with its own built-in marketing tie-ins, the production has learnt what works well for Hollywood serialisations and effectively appropriated these stylisations into a British context, ensuring the film maixmises both homegrown and global appeal. This is a film that understands its fan base as well as its commercial market. With the Falklands War, Sam Fox, club scene, and football hooliganism, there are just about enough 80s touchpoints to orientate the audience in the time period. A blonde George Russo as an estate agent in a turtleneck and mac screams of Inter-City-Firm! Whilst the plot sags in places, the film works best in how it tells the story.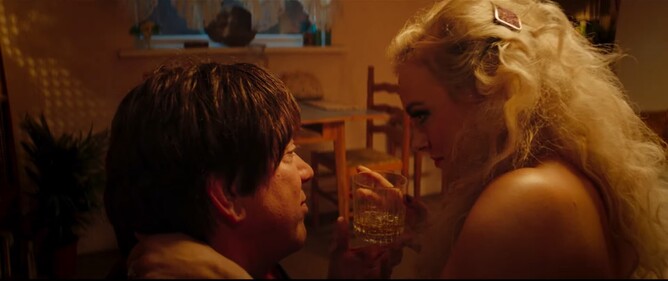 Terry Stone as Tony Tucker & Rachel Warren as Lucy in Rise of the Footsoldier: Origins
No one will claim the film is progressive in female representation, but this ROTF is more restrained in the sexualisation of, and violence against women onscreen. The toning down of female objectification to a little coked-up soft titillation is a welcome development and one that epitomises the film's drive towards appealing to a broader audience. Praise must be given to the film's editor, David Cohen, in the handling of the violence. While some may feel the film has moved too far away from the franchise's signature violent sequences (I for one was disappointed the film didn't deliver on what the trailer promised), Cohen's editing vitalises the film's visceral tone, daring the audience not to look away, reminiscent of Ben Wheatley's Kill List. When a flat is decked in plastic sheeting, you know there's only one way the scene will go.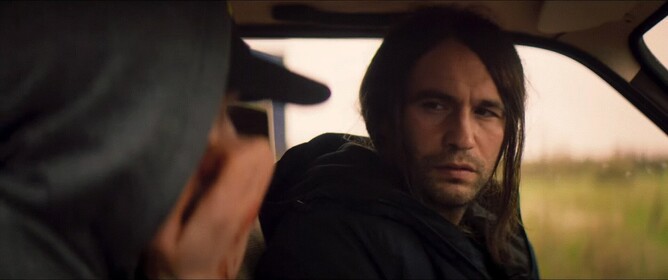 Roland Manookian delivers a remarkable performance as Craig Rolfe
But what really sets the film apart from the others in the franchise are the performances. There are the usual crowd of Terry Stone as Tucker and Craig Fairbrass, on the heels of his acclaimed performance in Muscle, as Pat Tate. And there are some knowing inclusions to keep the fans happy. The film provides a welcome return to form for Vinnie Jones as doorman and a sort of 'fixer', Bernard O'Mahoney. While the role isn't a stretch for Jones, he brings a much-needed levity to the part, adding a serious tone and grittiness to the overall look and feel of the film. George Russo as local gang leader and ICF member, Joey Waller, is always watchable and worth the price of the cinema ticket alone. But it is Roland Manookian as Craig Rolfe who shines. Manookian delivers a remarkable performance as the coked-fuelled dealer, hitting the fine line between desperate, sleazy, and wildness and achieving what should be implausible; making Rolfe almost sympathetic. This is character acting at its best and both Russo and Manookian's performances demonstrate the depth of acting currently circulating on the British independent film scene.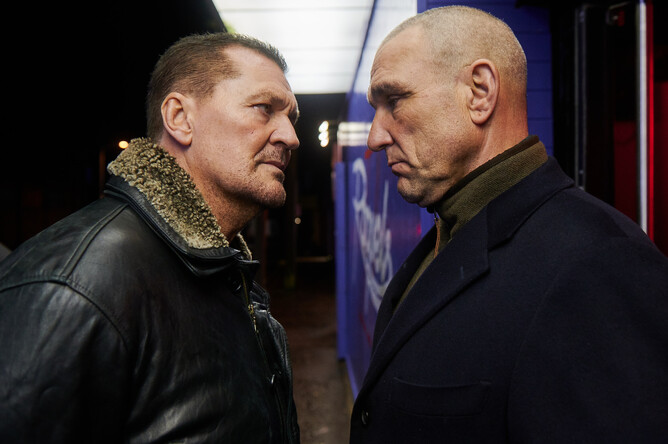 Craig Fairbrass & Vinnie Jones in Rise of the Footsoldier: Origins
Whether or not Vinnie Jones onboarding, or the reception for Craig Fairbrass' performance in Muscle influenced the production budget, it is evident money has been spent in the right places. The arrival of filmmaker Gerard Johnson on the British scene in recent years has enhanced the visibility and reputation of low-budget British film, increasing expectations on quality and creativity. With Hyena and Muscle, Johnson demonstrates a transition into a more mainstream space is possible for such violent, male-centric films. Nick Nevern taking the helm of this latest Footsoldier instalment can be seen as a serious move into Johnson territory, and along with Andrew Loveday, responsible for injecting some much needed style and cinematic know-how into the film. Could Origins be the mainstream crossover the franchise has been crying out for? While the film could be more effectively paced in places, and enlivened with some creative dialogue – and please god, a decent female role worthy of Helen Mirren's Victoria in The Long Good Friday - there's a lot to like about this new-look Footsoldier, and credit should go to both Nevern and Loveday for this. With a cinema release imminent, it will be interesting to see how the film is received by mainstream reviewers and how it performs at the box-office. But on the evidence of Origins, expectations are high for a possible next episode.
Kat Flint-Nicol

TATE: TWO DAYS OF BLOOD
TATE: TWO DAYS OF BLOOD is the ultimate vengeance action movie, as TATE (Craig Fairbrass) goes on the rampage to exact revenge for the brutal death of one of his footsoldiers. leaving his familiar Essex behind, and entering the seedy-side of 1990s London in search of those responsible.
Walking dangerous back-streets, confronting ruthless kingpins with merciless force, stopping at nothing to get vengeance, as all around him implodes.
TATE: TWO DAYS OF BLOOD coming late 2023.